Reviews of the workshops
____________________________________________
Frank Ewert - (Winnipeg, Manitoba) says:
"Why do I keep coming back to this workshop year after year?  For me it's easy. I come with anticipation and always leave with a sense of accomplishment. I am learning a skill and craft from a master carver. Bill is an excellent teacher and regardless of the skill you bring to the workshop he will take you to the next level. All of this happens in a well equipped and welcoming workshop surrounded by like minded people in the home of Bill and his wife Debbie. Debbie presides over the daily coffee but you can further avail yourself of her hospitality by staying at the bed and breakfast she runs out of her home."
___________________________________________
Stefan Seifert – (Canmore, AB) says:
I've attended three workshops and plan on attending more in the upcoming years! I highly recommend Bill's workshops for all levels of carvers – beginner to expert, they are for anyone wishing to further develop their carving skills. The small class size fosters a friendly collaboration and fellowship among attendees.  Workshops are a weeklong immersive experience that cover all facets of relief carving from conceptual design to finishing.  I love how projects are designed to accommodate each individual's personal ability and interests, based on Bill's assessment of your expertise. Everyone carves their own unique project at their own pace with Bill's oversight. Bill's never-ending stories, guidance, humour and passion all contribute to a memorable fun, learning experience.   
____________________________________________
Dr. Joe MacLellan (Calgary, AB) says:
Before I met Bill, I don't remember having previously held a mallet or chisel.  So you can imagine my skepticism when Bill suggested I join the next carving workshop.  Fast forward 7 years and I have now attended 7 workshops!
The class size is nice and small (6 or 7 carvers) and includes long time wood hobbyists, beginners like me, and pretty much everything in between.  Bill has a hands-on teaching style, a quick wit, and loads of patience; attributes that keep his carvers coming back year after year.  His decades of experience with relief carving helps those with little experience learn quickly while also giving those with more experience the know-how to carve more complicated pieces.
One of the best parts of this course is going home with your carving - a reward I got to experience after my very first workshop.  Since then I've made 3 more carvings of my own design.  Throughout these projects, Bill has modelled each step of the process, from laminating the wood through to applying finish and wax.  
Of equal caliber to the workshop, is the Glacier Park Bed and Breakfast, run by Bill's wife Deb.  I have stayed there during each of my trips for this workshop and can't get enough of the great food, and warm company. Together, Bill and Deb make this course feel like a trip back home to see my family.
I could go on, but don't take my word for it.  Give Bill a call and visit his shop to see for yourself, before you take the plunge and join a course.  You won't regret it.
____________________________________________
Dennis Aicken (Calgary, AB) says: 
I am pleased to recommend Bill's carving workshop.  He is a good friend, teacher and gifted artisan.  I have been privileged to participate in two of Bill's carving courses and have appreciated his patience, skill and passion for his craft.  You will discover this investment of time truly an inspiration!
_____________________________________________
Berie Heudepohl (Vermillion, AB) says:
I have attended Bill's carving workshop for 10 or 12 years.  Every year I come away having learned something about carving, something about art and design, something about the tools of the craft.  There are people who attend who have gone on to be professional carvers, although that is not my goal.  I do want to continually improve and a week dedicated to carving helps me do that.  I also treasure the time spent.  Most of the carvers in the course are returnees, and we have established a rapport, and I look forward to seeing them again each year.  I have learned a great deal from Bill, but I have also learned from the other carvers, and have been inspired and stimulated by their work.  I intend to continue attending this workshop.
____________________________________________
Reuben VanAgteren (Chilliwack, BC) says:
"I learned more in one week of Bill's workshop than I have in the previous 7 years of carving.  Bill is an excellent teacher who obviously cares about his students and will go the extra mile to ensure that they get all that they can out of the workshop.  If you are serious about taking your carving to the next level, this is the way to do it."
____________________________________________
Purpose
The purpose of this course is to introduce novice carvers to the full process of relief carving, but also to provide experienced carvers and advanced students with an opportunity to expand their relief carving skills.
Each student will work at his/her own speed on a project of their choosing, and will have opportunity to learn relief-carving design, wood lamination, tool sharpening and various carving skills. The intention is to have each student complete a project during the week long workshop. There will be ample time for socializing.
The workshop will begin on Sunday evening, with a BBQ supper at 6 pm. Time will be available to tour the studio and set up individual workspaces.
Classes will begin the following morning, Monday at 9 am and end each afternoon at 5 pm. The course will end on Friday at 5 pm. Total instructional time will be 35 hours over 5 days.
Students will be able to use the studio to carve on their own in the evenings till 10 pm. This workshop will be a smoke-free event. Classes are limited to seven students.
Curriculum
° Tool structure and tool safety
° Four-quadrant carving
° Router techniques
° How to rough out the carving
° Re-tracing pattern layers
° Trimming pattern elements
° Rough modeling
° Undercutting
° Finish modelling
° Tool-marking
° Borders and backgrounds
° Texturing
° Finishing
° Tool-making and Tool sharpening
° Lamination of a panel
° Use of jointer and planer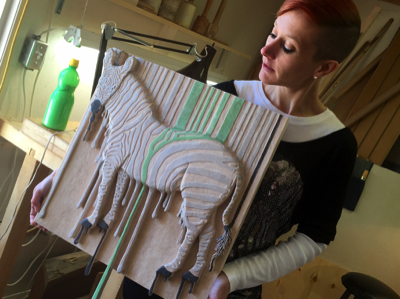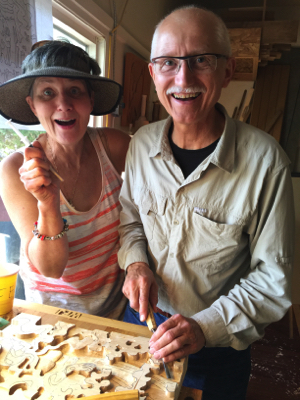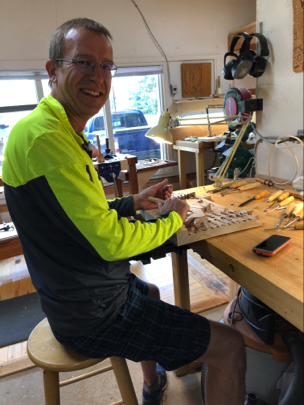 May and September workshop CANCELLED DUE TO
COVID-19